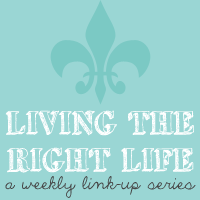 Living the Right Life is a weekly link-up hosted by Ashley and Megan about trading all the "shoulds" in life for all of your wants.
I've been admiring the Living the Right Life link-up for awhile, but never have managed to get around to posting anything for it, but after reading Megan's post Endorphins Make Your Happy about how the days where she gets up and gets moving she's generally happier, it got me thinking about my own exercise situation.
For some reason, after I graduated high school, exercise became a dirty word in my vocabulary. It was that thing that sorta always hung over my head as something I should do, but the thought of actually doing it would send me straight into a panic attack. The thought that exercise could actually help with anxiety and depression was outright laughable in my mind. My internal reaction every time I came arcoss the tidbit was along the lines of "Seriously? Exercise? EXERCISE CAUSES PANIC ATTACKS, PEOPLE! YOU'RE ALL INSANE!"
My early twenties were littered with attempts to exercise.
I remember before I got married, I got bit by the "I should exercise and watch what I eat" bug because all the other brides on the message boards were doing it and lasted about a week because the only place I had to exercise was in the living room of my parents house. There is NOTHING that will kill your very very feeble desire to exercise more than being watched by two people who are clearly annoyed that your exercise routine is distracting from them watching Law and Order.
I lived in an apartment complex with a gym at one point. I tried to get into the habit of going to the gym with my ex, but a few days in and I would get to the gym and start having a panic attack because the prospect of having to spend 30 minutes doing something I absolutely loathed when I could be at home curled up with my computer surfing the Internet just made me insane.
I tried hiring a personal trainer who would come to your house and get you to exercise once, and I never had her back because there was one exercise in the routine she came up with for me that I couldn't do without being in pain that she had to modify for me and it sent me into a spiral of "I don't want to do this."
Exercise was something that I crashed and burned at. Yet, I was totally fixated on the fact that it was something that I should do.
When I moved to New York City in 2009, something shifted. All of the sudden, I stopped caring about exercise all together.
I think a large part of it was prior to moving to the city, I belonged to a message board community where there were a lot of women who were concerned about their diet and exercise habits. It wasn't really my style to be concerned about such things, but the fact that it was a constant topic of discussion really made me feel pretty less than. So, I tried to force myself to be interested in something I didn't have an interest in. That doesn't work AT ALL.
When I moved to the city, I stopped posting on the message board because I didn't have time to anymore. The topic was no longer in my face anymore and I stopped thinking about it all together.
And I started walking. A lot.
When I first moved to the city, it was summer and I lived a half a mile from the nearest subway station. I loved walking around the city aimlessly just exploring to see what was there. I was exercising CONSTANTLY, and I had no conscious realization that I was doing it. My walking does definitely drop off when it's cold out, but as soon as it's warm, I walk everywhere I can.
Recently (as in the last week), I've been trying to add in a few other things to my daily routine. A long time ago, I bookmarked One Hundred Pushups and Two Hundred Situps and I decided to give them another look and use them as a starting off point to introducing some more exercise into my daily life. I've already gotten a little bored with the sit-ups program, so I've been poking around the web finding alternative ab workouts but I've been sticking pretty strictly to the pushup one.
It's only been a few days, but I feel like I'm already seeing some improvement. The first day of pushups was super tough, but they seemed a whole lot easier when I did them today.
The big thing that I'm carrying into it this time around is attitude. Before, I always was concerned that I had to be perfect. In the past, if I missed a day, it was the end of the world and it wasn't worth doing anymore. If I miss a day now, it's not a big deal. I'll do it tomorrow.
And I actually want to do this. I'm not doing it just because I feel like I should because I need to fit in somewhere.